Archives:
SFW News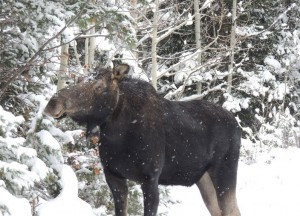 Anyone interested in Moose? Here's an update the Utah Division of Wildlife Resources and Utah State University Moose Study from graduate student Joel Ruprecht. SFW invested a bunch of time, resources and funding for this project. Anyone interested in more about this study can attend Joel's presentation at the Utah Wildlife Society (UTTWS) conference in St. George on March 20 or 21.
After a quiet winter with no mortalities of radio collared moose since November, two moose in the Wasatch Unit have died in the last two weeks near Tabby Mountain. The end of winter is hard on moose as their health is compromised after months without high quality forage, and fat reserves from summer foraging begin to run low. In addition, this time of year is when moose are most affected by winter ticks which can number in the tens of thousands on a single moose. The late winter moose deaths are not surprising as other moose studies have reported spikes in mortality during late winter. As spring arrives and plants begin to leaf out again, moose once again have access to nutritious forage and can begin restoring their lost fat reserves after the winter months. It is encouraging that no collared moose died between November and February, the longest period with no collared moose deaths since last winter when 120 adult female moose were collared. 100 collared moose still remain in the Wasatch and North Slope of the Uinta Mountains.
Last winter when moose were collared, biologists took a small blood sample. Among other things, the blood was assessed for nutritional content. Although not all results are in, it appears that moose in our sample are suffering from deficiencies in several micro nutrients including selenium, copper and zinc. Although animals only require these trace elements in very small quantities, when deficient they can impair the immune system and cause reproductive losses. We will continue to investigate the causes and consequences of these mineral deficiencies.
In the coming weeks, we will be conducting aerial surveys to determine calf survival of collared cows. Since calves have lower survival rates than adults, calf moose are not considered to have been added to the population until they survive their first winter. Thus, these surveys will give us valuable information on the current trend of Utah's moose population.
Last year's survival rate for adult female moose was ~85%. This is considered within the normal range of survival rates of moose rangewide. There was no difference in survival between the Wasatch and North Slope herds. Annual survival rates, as well as calving and calf survival rates, will continue to be studied until at least 2016. By the end of the study, we will have a solid understanding of the current status of Utah's moose population with future population projections, as well as the causes of changes in moose numbers.
A number of collared moose have been difficult to locate during the winter due to them utilizing different habitats during winter, as well as the difficulty in accessing them this time of year. If anyone sees a radiocollared moose, if you could make note of its location and contact me at joelruprecht@yahoo.com or (208) 320-8713, it would help us out.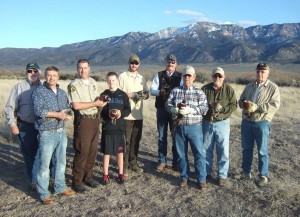 Sportsmen for Fish and Wildlife members have released 2,000 hen and 300 rooster pheasants in the last 3 weeks in Sevier, Wayne and Millard counties. This is just a portion of the birds we have released in the last couple of years in our area.
Sevier County County Commissioners and Sevier County Sheriff Nate Curtis, along with our local SFW Sevier/Wayne County committee members joined to help pass the night hunting law and bounty of foxes and racoons to give these birds a chance to survive.
These are the kind of projects that will ensure hunting opportunities for our kids and grand kids.